Google Analytics: Connect to Google Ads
Once you have Lytics audiences flowing into Google Analytics, you can use those audiences to create groups to target with Google Ads. If you have not completed setting up Custom Dimensions in Google Analytics, please do so before continuing with the steps below.
Integration Details
Add Lytics Core Remarketing Audiences
To create a new remarketing group, start in the Google Analytics Admin section, expand Audience Definitions under the Property column, and select Dynamic Attributes.
Click on New Audience to get started.
On the Link Configuration step, choose a web property that has your Lytics tracking tag on it, and select the Google Ads account that you want the audience that you are building to show up in.
Click Next Step. You can either add custom audiences that you created in Lytics or add the Lytics Core Remarketing Audiences by importing them from Google's Solutions Gallery.
To import the Lytics Core Remarketing Audiences, select Import Segment and search for Lytics. Select Import for the Lytics Core Remarketing Audiences.
Add Custom Lytics Audiences
In addition to adding the Lytics Core Remarketing Audiences, you can add custom audiences that you have created in Lytics.
On the Define Audience step, instead of selecting Import Segment, select Create New.
From the Audience Builder screen, select Conditions under Advanced on the right-hand side.
To access the Lytics audiences, expand the first dropdown menu and find Lytics Audiences.
When you click on the empty text box, Google Analytics will populate an example list to choose from. Each element on the list will be a combination of different Lytics audiences that Google Analytics has seen attached to individual visitors.
To target a specific Lytics audience, leave the second drop-down box at contains and type in the id of the Lytics audience that you want to match. Once you have the ID entered, click out of the box (otherwise Google will select the first line that matches what you entered). You can use Lytics audiences along with any other tools in the Audience Builder to create the audience that you want to target.
When you're done, select Apply.
From there you can see how many people Google has seen matching this audience definition in the last 7 days, indicate how long a person remains a part of this audience, give the audience a name, and, when you're done, click Save.
Note: You must complete the first part of the Google Analytics integration in Lytics and let it run for long enough for Google to collect Lytics audience information from your site visitors before Google will show any matches to Lytics audiences. Depending on your site traffic, this could take hours or days.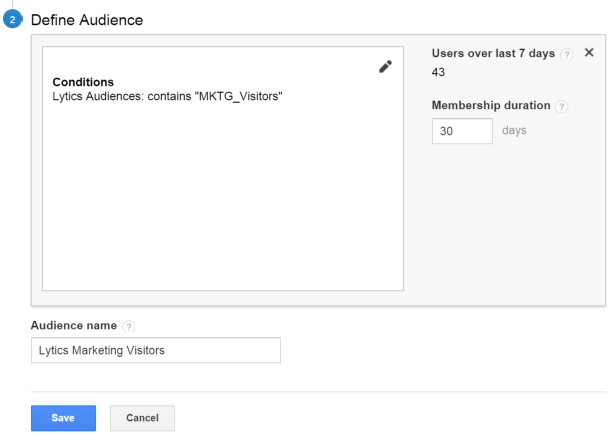 Any audiences that you create this way become part of the Shared Library in Google Ads allowing you to use them as part of your advertising campaigns.